At our Orlando animal hospital, we offer bathing and professional pet grooming services for cats and dogs of all breeds and sizes, helping you to help your best friend put their best paw forward.
Cat & Dog Grooming Services
Professional grooming helps keep pets looking and feeling neat, clean, and healthy – and saves you both time and energy.
Whether your furry friend needs a haircut, nail trim or tooth brushing, our professional grooming services have got your pet's needs covered.
As well as standard grooming and bathing services, we offer luxury services including blueberry facials, hot oil treatments, and pet-safe hair dyes for more daring pet owners.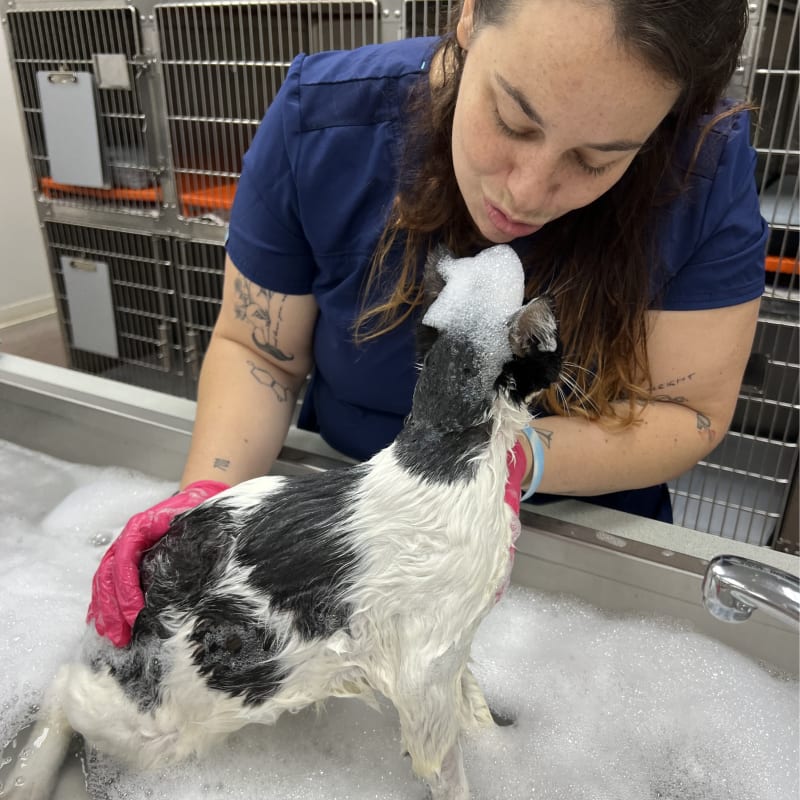 Putting Your Pet's Best Paw Forward
Our Pet Spa is open 6 days a week (Mon – Sat) to fit around your busy schedule. We also offer later drop-offs and last-minute appointments, depending on availability. Our professional groomer has the knowledge and experience to groom pets of all coat types and temperaments.
Dog & Cat Grooming FAQs
If you've never taken your dog or cat for professional grooming you are bound to have questions.
Read the answers to our most frequently asked questions about pet grooming at East Orlando Animal Hospital below.
Bathing Services
Our bathing services for Orlando dogs and cats are available 6 days a week, and include shampooing, nail trim, ear cleaning, and anal gland extraction, as well as blow-drying and brushing.
Our professional groomers can also use a range of deodorizing pet grooming products to help keep your cat or dog smelling good for up to 2 weeks!
Benefits of Bathing Your Pet
Keeping your dog or cat's coat and skin clean with regular bathing sessions offers a number of sanitary and dermatological benefits. Regular bathing:
Removes dirt and debris and gives your dog or cat cleaner and healthier skin and coat
Softens and conditions your animal's coat
Helps to reduce shedding and matting
Reduces allergy symptoms & skin conditions
Allows our professional groomer to monitor your pet's overall health