We know you love your dog and want them to get the attention and exercise they deserve. At East Orlando Animal Hospital, we offer Doggy Daycare so your dog can run and play while you work.
Exercise & Socializing
It may be difficult some days to spend quality time with your dog due to busy schedules.
At East Orlando Animal Hospital, we provide a fun alternative to spending the day alone or in a dog crate. With our Orlando Doggy Daycare, you can leave your fur baby with us for a day filled with exercise, socialization, and playtime that will allow them to use up that extra energy!
Our clients often tell us that their dogs are much less likely to be destructive or hyper after a day of play, and ready for snuggle time when they get home!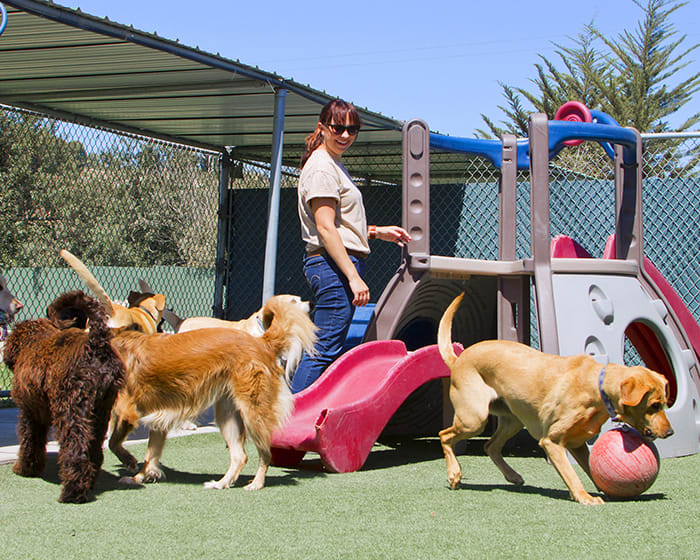 Our Dog-Friendly Facility
At our Doggy Daycare, your dog will be able to spend time with other dogs and get all the exercise they need.
To be sure everyone is safe while they are having fun, we have separate play areas for small, medium, and large dogs.
On nice days, your dog will love running around with other pups in our large, enclosed outdoor play area with partitioned zones for small and large dogs.
Your Pet's Day With Us
While participating in daycare, your pet will receive:
A minimum of three group or individual play times
Treats throughout the day
Lots of love, attention, toys and friends!
Keeping Your Pet Happy & Healthy
We want all of the pets who join us for the day to have fun and be safe. To protect your dog and others all pets attending Doggie Daycare must be current with their vaccinations and on flea and internal parasite prevention.
Dogs must also complete a behavioral evaluation by our staff to determine whether they are a good match for Doggie Daycare.
If you're looking to pamper your pet, we'd love to welcome them into our pack for a day of fun and exercise! Contact us to find out how to register your dog.
Daycare Pricing & Packages
Group Play
Single Day: $21.00
One Week (5 Days): $94.50
One Month (20 days): $315.00
Individual Daycare Program
Single Day: $26.25
One Week (5 Days): $131.25
One Month (20 days): $393.75
Doggie Daycare Patient Requirements
We want to be sure that all of the pets that stay with us are happy and healthy. That's why, to ensure the safety of every pet in our care we require that all of the dogs at our daycare be current on the following vaccines:
Rabies, DHPP & Leptospirosis
Bordetella (within the last 6 months)
Intestinal Parasite Test (within the last 6 months)